A Picture Album of the British Isles from our Trip - September 2002 Section IV
On Wednesday, September 11, we had a day tour of Cornwall, then back to our hotel in Plymouth for a second night. Then on Thursday, more of Cornwall and Devon.
Mount St Michael. There is a causeway to it which is exposed at low tide.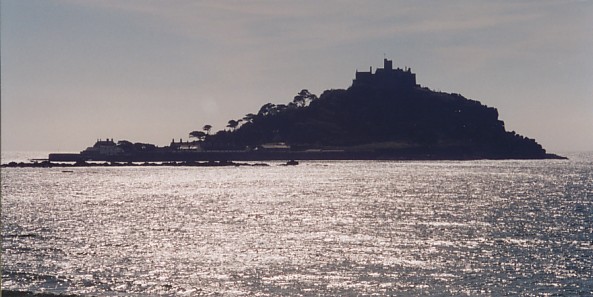 Same location as above, looking at the city of Penzance.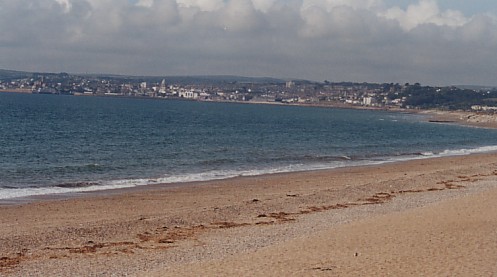 Ruins like these are a common sight in Cornwall. The square building was a hoist house, which housed an elevator to transport men to the mines below, and bring back copper and/or tin ore, and the miners, too. The chimney-like structure was a ventilation shaft.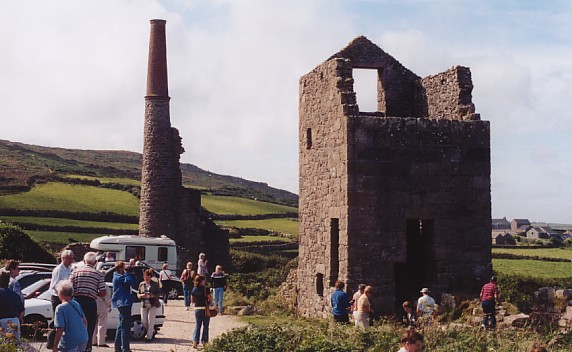 The wasteland and farmland behind the hoist house.
Another picture from the hoist house. This is the north coast of Cornwall.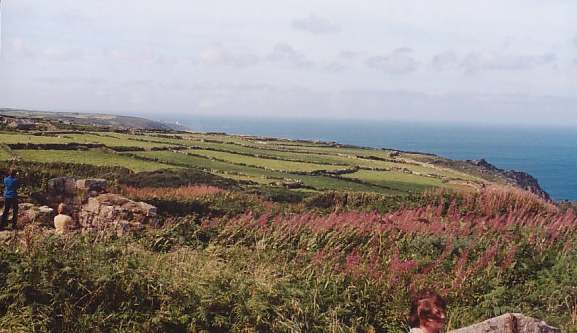 Also on the north coast is the seaside town of St Ives.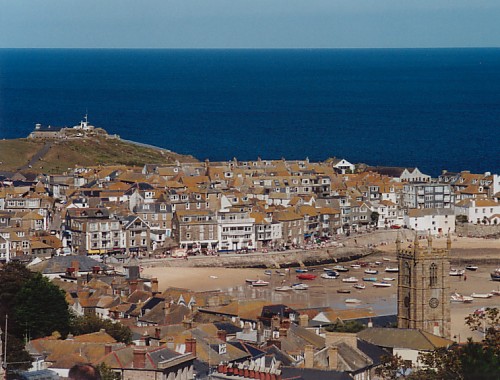 Ruins of a 12th century castle near Tintagel, Cornwall. This is the lengendary birthplace of King Arthur in the 5th century.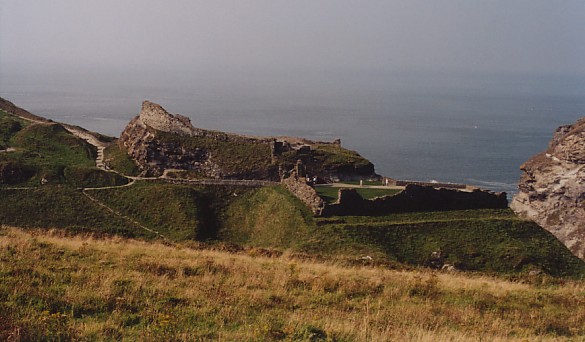 Same place, castle ruins out-of-sight on the left. Beautiful coastline!
A couple of old folks: Lois & Gordon Miller near the castle ruins.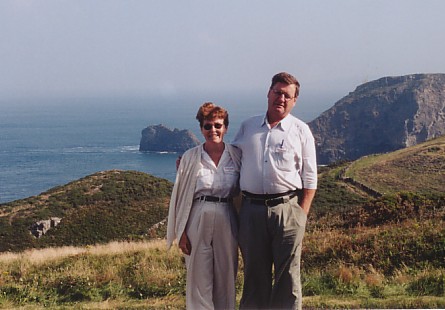 In the town of Tintagel is this 13th century building that served as a post office for many years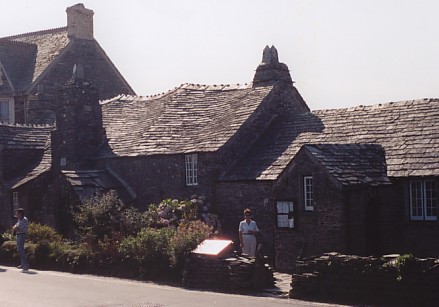 The fishing village of Boscastle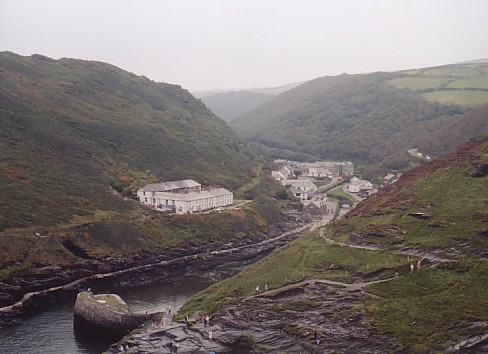 A gift shop in Boscastle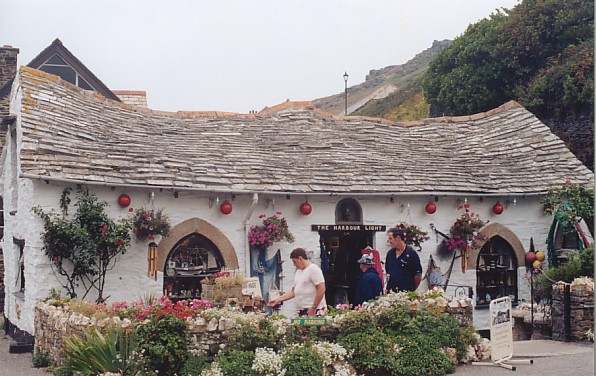 From Boscastle, Cornwall we went to Clovelly, Devon, a town owned by the Rous family, the 3rd owners of the town since 1066. One pays £3.50 to visit this one-street town.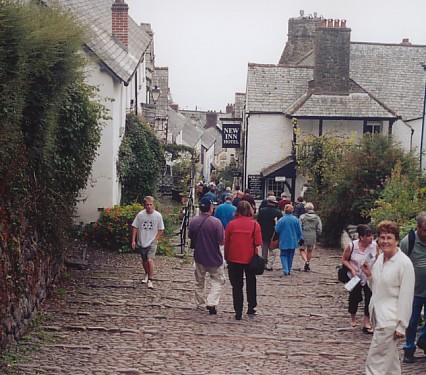 Donkeys are used for transporting both people and goods up and down the steep Clovelly street.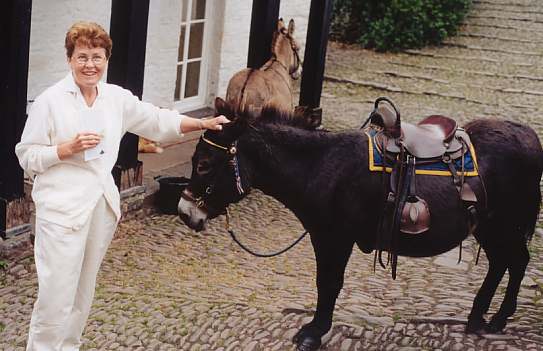 The 14th century breakwater in Clovelly harbour.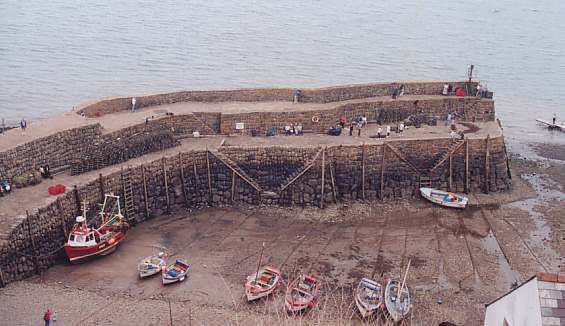 Looking up from the breakwater at some of the 80 houses that are in Clovelly. Since the town is owned by the Rous family, the inhabitants rent the houses and must abide by the Family rules.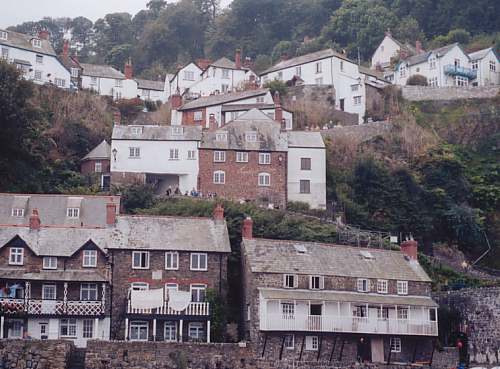 We stayed overnight in Barnstable, Devon and next day went on to Glastonbury, in Somerset, then to the ancient city of Bath. Spent that night - Friday - in Cardiff, Wales
.
Click here for the next set of pictures.